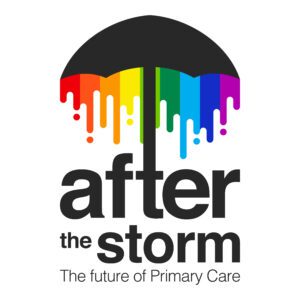 How will the Future of Primary Care be affected by the Covid pandemic?
After the Storm is a study centred around the significant and rapid changes experienced in Primary Care due to Covid-19 and looking at what the future of Primary Care will look like when the pandemic has abated.
There are two distinct parts to this study:
Giving Primary Care professionals a voice
We are conducting a sector wide survey to give Primary Care professionals a chance to have a voice on how the rapid changes have affected them and their views on the future of Primary Care. 
The survey is now closed and we will be circulating the results shortly
We have recorded video interviews with Primary Care professionals who share their opinions around the 9 key topic areas we have focused on. 
Click the rainbow coloured links to view individual videos around each key topic area.
Surveys completed to date
Latest videos on the future of Primary Care
View our most recent videos from Primary Care professionals sharing their opinions around the 9 key topic areas on the future of Primary Care. 
Comments on the future of Primary Care
GPs working remotely has worked fantastically well. Due to being unable to safely social distance, admin staff have been able to carry out tasks working from home. This is a great way to provide a service for our patients. Waiting for a GP to call you is better than sitting in a surgery waiting room waiting to be called in. MS Teams has provided a good backbone structure for meetings, with fewer people need to cancel or postpone meetings which is very important managing a remote working team. Patients have seen benefits feeling telephone triage before seeing a GP face to face is time saving and effective for them.
There is a danger in telephone consultations both from the patient who plays up their symptoms and those who play them down which a fact to face consultation can reveal. I accept there may be more place for some remote consultation however technology cannot replace human relationships particularly in this day and age of mental health awareness where isolation can be a major factor. In the main I see no good reason for a 24/7 service as most GP consultations are not medically urgent and those that are can be dealt with through out of hours or emergency departments
The current workload, the fallout from the associated burnout will provide significant challenge to primary care. Patient demands and unrealistic expectations (driven by the belief we have done very little during the pandemic) is and has demoralised staff - many of whom will look to leave the NHS
I hope that we continue to positively embrace new technology and creative ways of working and providing Care. However we need to be thoughtful of the impact and long term unsustainability of patients increased new expectations for a rapid primary care response service and the challenges it imposes.
The range of ways in how consultations are managed are definitely here to stay, we will certainly be continuing with telephone and video consultations. We also implemented a 'buzzer system' for patients to wait in their car rather than in the waiting room to reduce transmission of viruses, again we will continue with this.
The face of primary care has changed forever - there is no need to have clinicians onsite - our business can have a more flexible approach - other healthcare professionals are important to our future
Video Library - The 9 Key subject areas affecting the future of Primary Care
We have focused on 9 key subject areas which we believe have had the profoundest effect on how Primary Care has operated whilst under pressure to adapt to the pandemic. The below videos are gauging opinions from Primary Care Professionals at all levels, everyone has a chance to have their say.
The patients relationship with Primary Care
Registrars and Newly Qualified GPs
Primary Care as a profession
Recruitment and retention
Outlook for the future and the NHS long term plan
Tech for video and telephone consultations can be damaging to the patient/GP relationship and it could make it more impersonal in the future
The technological enablement of patients being able to engage and interact with Primary Care practitioners with quicker and higher level of access than before will lead to unmanageable expectations from patients post covid
The changes during the Covid Pandemic have decreased my workload
The changes have increased the time I have for professional development